What is calcurse?
calcurse is a calendar and scheduling application for the command line. It helps keep track of events, appointments and everyday tasks. A configurable notification system reminds user of upcoming deadlines, the curses based interface can be customized to suit user needs and a very powerful set of command line options can be used to filter and format appointments, making it suitable for use in scripts.
Never miss a release again. If you want to receive release announcements, you can add your email address to the announcement mailing list here.
Love calcurse? Contribute by writing code or make a donation to support the project.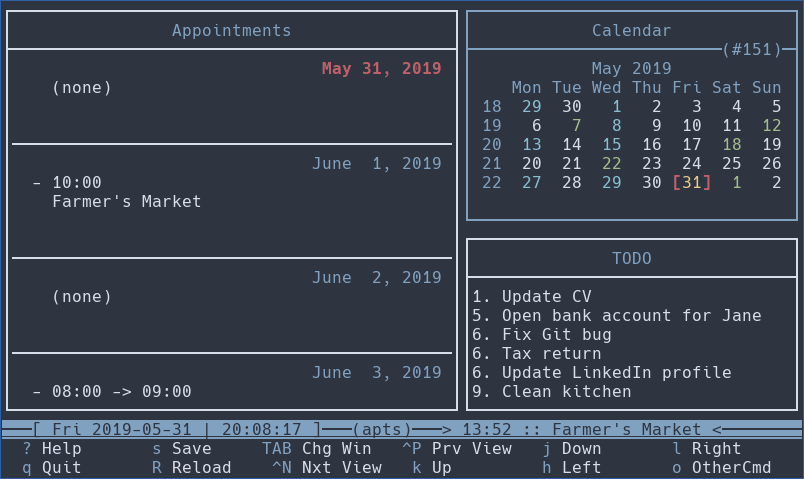 Important features
hooks – run scripts when loading/saving data, e.g. to put your calendar data under version control
experimental CalDAV support – synchronize calcurse with your mobile devices!
support for various types of appointments and TODO items, including all-day events and recurring appointments
fast and customizable curses-based interface
powerful non-interactive command line interface that can be used by scripts
user-definable key bindings
fully user-configurable notification system (ability to send mails or anything else that could remind you of your upcoming appointments)
import capabilities with support for iCalendar format
export capabilities with support for iCalendar and pcal formats
ability to attach notes to each calendar element, and to edit them with your favorite text editor
support for internationalization with texts translated to English, French, German, Dutch, Spanish and Italian
UTF-8 support